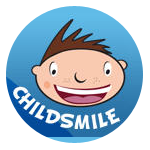 Improving the oral health of children in Scotland
Childsmile is reducing inequalities in oral health and ensuring access to dental services for every child across the country.
What happens at your dental practice
At the dental practice, you will be given advice and support from the dental team, who will show you how you can stop your child from suffering from tooth decay in the future.
The dental team will:
give information on how teeth grow and develop and carry out regular checks to make sure the teeth and gums are healthy.
offer hints and tips on dental care.
demonstrate and explain toothbrushing.
promote toothbrushing messages e.g. spit don't rinse.
advise on weaning and healthy snacks and drinks.
provide clinical care including twice yearly fluoride varnish
At your initial visit it may be the dental nurse you see. The dental nurse will advise you on how to keep your child's teeth healthy and help with practical problems such as teething, weaning and choosing the right food and drinks.
The dentist will check your child's teeth and gums at least once a year, from around 18 months and give any treatment your child might need. These regular visits will also help your child to become familiar with being examined by a dentist.
From the age of two, the dental practice team can provide additional preventive care, such as fluoride varnish and fissure sealants.